2600+ stores in over 50 countries offer professional services in the field of shipping, micrologistics, marketing, graphic design and printing. You can already find your trusted partner in Bulgaria!
Design
We provide graphic design, printing services and production of advertising materials
Packing
MBE is a world expert in the safe and secure packaging of your shipments
Delivery
Send your shipments quickly and easily with us in Bulgaria and anywhere in the world
Mailboxes
Mailbox rental, prestigious office address registration, virtual office
---
Access point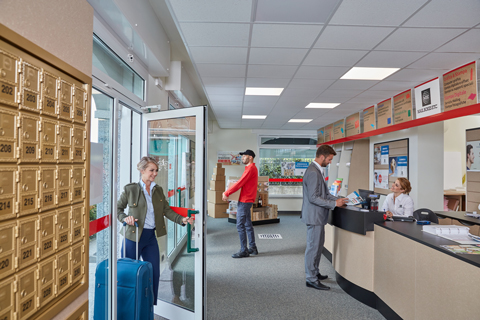 Thanks to our complete and flexible micrologistics solutions, MBE is the ideal partner for processing your goods throughout the logistics chain. MBE supports you both through individual processes and through complete warehousing and distribution logistics.
The access point we offer is our MBE centers, which, in addition to offices, also serve as a temporary warehouse for your goods. Instead of coming specifically to our MBE hub (warehouse), if we do not have an agreement for transport service, you can leave the goods in each of our MBE centers, which is convenient for you, and we will take care of delivery to your customers.
We can individually assemble the product you want, pack it professionally, add print or advertising materials and prepare the shipping documents. We follow your individual requirements.
The experts who provide the MBE micrologistics service will be happy to come up with a completely new logistics and fulfillment solution for you according to your specific problems and challenges.