Mailbox rental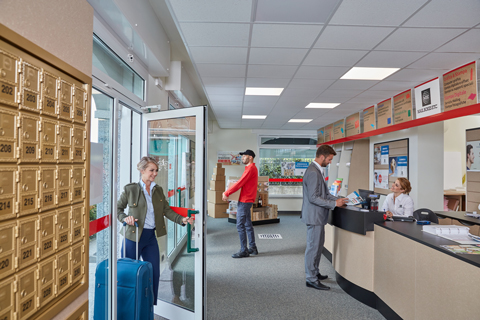 You can rent your own mailbox for personal or business use - as an individual or legal entity in any MBE center in Bulgaria.
This service allows you to ensure the receipt of all your shipments to the MBE center of your choice. You can even receive shipments larger than your mailbox, which we will store safely in the larger space of the MBE center.
We can notify you of the arrival of your shipment or provide us with an address to which we can forward it for you. We may send and deliver your items to someone you authorize, or - if you instruct us - open your mail, scan the document, and email it to you for your convenience if, for example, you are abroad. Why waste time waiting for couriers? Order your shipments at the address of the nearby MBE center and then decide what to do! If you have any questions about renting a mailbox, contact the nearest MBE center.

Physical mailbox
- Based in a popular business area as well as in the city center
- Secure address for your shipments and correspondence
- Email notifications for received shipment
- Key for access to the box during working hours
- Staff available 5 days a week to receive your shipments and correspondence
- Personalized service for scanning and forwarding mail
- Available in different plans (for detailed information about our pricing plans, contact the convenient for you MBE center)
- Our plans also include printing / copying services, document binding, digital printing, discounts for courier services
- Suitable service for small start-ups and freelancers who work from home and do not want to use their personal address in business correspondence. Our self-service desk provides high-speed internet when you need a computer to edit a file that we can then print for you.
Virtual mailbox
- You see a notification and a photo when you receive new mail
- With one click you request scanning, forwarding or destruction of mail
- Different monthly plans
- Secure application compatible with Android and Apple
- This service does not provide a physical mailbox. The MBE team manages your shipments for a fee.
- It is suitable for people who live abroad, but need a place to receive correspondence in Bulgaria.
Register your personal virtual mailbox here: https://www.anytimemailbox.com/l/bulgaria/sofia-grad